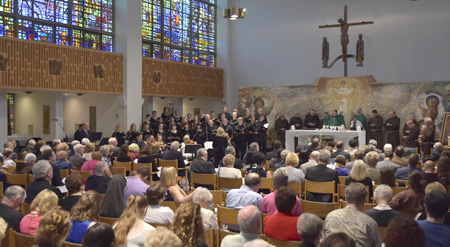 Sunday, September 17, 2017, was the world premiere of the "St. Bonaventure Mass" composed by Fabio Luisi to honor the 800th anniversary of the birth of St. Bonaventure of Bagnoregio.  It was performed by the Chamber Ensemble of the Buffalo Philharmonic Orchestra and the Buffalo Philharmonic Chorus.
This monumental event was broadcast live and is also available for viewing at http://www.ustream.tv/channel/st-bonaventure-university-live-stream
To view photographs of the event click the link http://www.requestaprint.net/rudinec_art/gallery.php?pageno=1&gallery_id=6
The Anniversary Weekend also included the presentation of Honorary Degrees to Fabio Luisi, Conductor and Composer, and Richard S. Vosko, Sacred Space Planner.
Another highlight of the weekend was Barbara Luisi's exhibition of fine art photographs, "The Spiritual South".