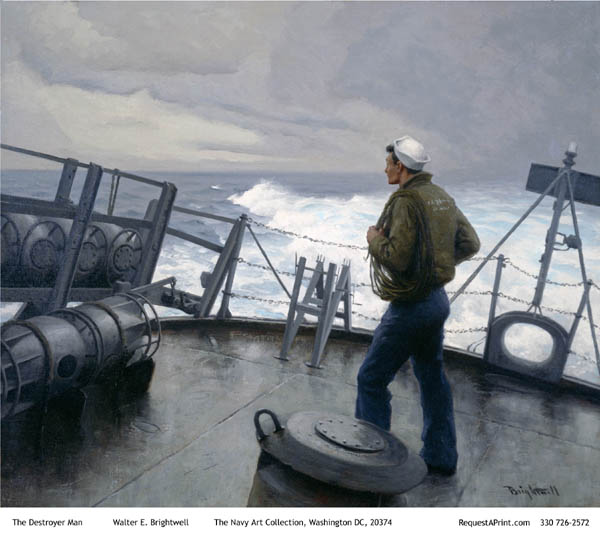 "The Destroyer Man": Staring out into the vast Pacific Ocean, a Navy enlisted man stands on the aft deck of USS Theodore Chandler as part of Cruiser-Destroyer Force, US Pacific Fleet, March 1960. This painting by Walter E. Brightwell is a part of the vast US Navy Art Collection.
This image is free to use. Click here to download!
Rudinec & Associates, through our RequestAPrint program, is a provider of museum quality reproductions and maintains the most up-to-date online database of US Navy Art Collection. https://www.requestaprint.net/navy/index.php
We have provided framed prints for the Pentagon, BUMED, The Marine Corps Barracks and other government facilities and individuals. We would be happy to work with you on single print or multiple print orders. Installation is available in selected areas. We accept government credit cards and have provided prints and services as both a prime and sub-contractor.
If you have a special request or would like more information on our capabilities or how to purchase from us, contact Joseph Rudinec or Cindy Perorazio. Phone: 330-726-2572 Email: rudinec@rudinec.com