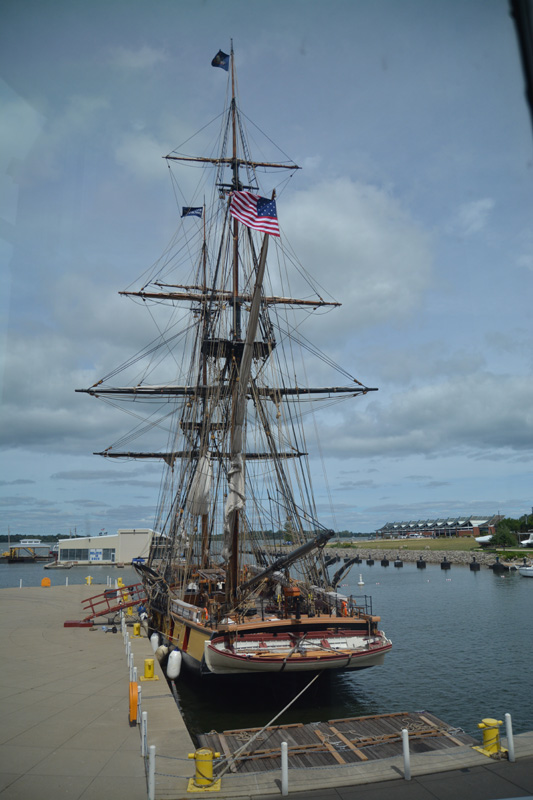 Heave…Ho…
This isn't a sightseeing boat ride.  It's called sail training, and it is.  The view is mainly of the sails and  ropes. They are everywhere.  Neatly stowed or coiled.  This is absolutely the best way to learn what is required to crew a 1813 square rigger.
Captain "Goldie" commanded the ship from the stern and the crew echoed his commands and reported on their execution.
Senior Captain Walter explained the operation of the brig Niagra on the quarter deck.  The love of the ship was very apparent and his description of the ship as an organic vessel was something I had never considered.  The beams, the masts, the sails and the ropes were constructed from things that were alive.  He stressed that when maneuvering the ship the stresses placed on "her" should be considered.
It was surprising to learn that "she" had a 11 to 13 ft. draft, and was constructed to clear the sand bar at Erie harbor and sail on Lake Erie, which is a relatively shallow lake.
The current brig Niagra is a replica of Admiral Perry's flagship and was originally constructed for only that battle.  Perry transfered to the Niagra from the badly damaged Lawrence during the heat of the battle of Lake Erie.  She also flew the battle flag, emboldened with the words of Admiral Lawrence "Don't give up the ship"
See all they have to offer on their website http://www.flagshipniagara.org/