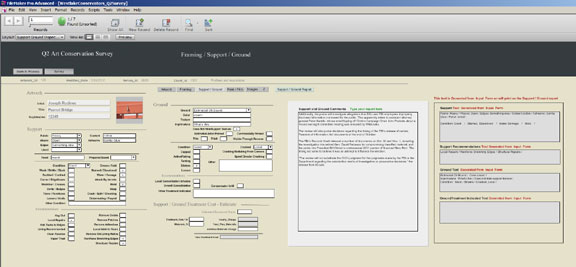 Overview
Q2 Survey is a complete and easy to use yet powerful inspection and evaluation tool. We have over 20 years experience working with museum collections and experienced conservation professionals.
Q2 Survey was developed to help the professional conservator quickly and accurately evaluate the condition of different types of artwork.  It then automatically generates detailed reports and provides the conservator the ability to detail their examinations and present suggested treatments and cost estimates.
It is  available in two versions:
The first is dedicated to a client and which can included an unlimited number of works being evaluated. It can be duplicated as necessary and delivered to the client along with printed reports.
The second version is designed to be retained by the conservator for in-house use. It supports multiple clients within the program, tracks work in progress with searches across all clients.
Features
1. Q2 comes with free technical support for set-up and initialization. 90 days free unlimited technical support. No additional cost for customizing up to 2 reports. Options for complete customization.
2. Q2_Runtime is a self-contained program. It does not need to be installed on the computer and easily runs from a usb drive. It can be duplicated and distributed as needed.
3. Q2_Runtime can be upgraded to a networked multi-user program.
3. Q2 was developed within the Apple "Filemaker Pro" windows environment. An operating system known for stability and cross platform compatibility.